robert1700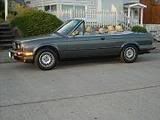 Joined: 04 Jul 2004
Posts: 1398
Location: Seattle
Posted: Fri Jan 01, 2010 12:52 pm

Post subject: 1990 325i vert 105k 3800

---

1990 325ic
Silver with Blue interior
105,400 miles
WBABB1312LEC03735
Manual transmission with lsd
All vins and body panels are original. I have never done a carfax on the car but all the vins are there. Also original windshield is perfect with no cracks and still has the dealer stickers. The rear seat also has the original options list. Not a speck of rust.

Condition-
New Black Soft top
All electrical works except for obc light-I have a obc with a light strip that I will throw in. Original radio is also dimmed.

Suspension-
In good shape except to areas-
Tie rods are swimming and need to be replaced. Also rear strut mounts are singing Beethoven 5th.
Struts/control arms are good. Rear subframe good.

Drivetrain-
Engine- Feels solid. I have not done a valve adjustment and the last timing belt was done at 78K/2002. So do a timing belt and valve adjustment soon. Also the engine has the updated hex bolts.
Transmission-This is why I purchased the car. The clutch/tranny/shifter/driveline are about as good as you are ever going to find today unless they are rebuilt at Metric Mechanic. By far the best I have ever felt and I own 10 e30's.
Diff- 4.10 lsd and does not leak or cry.

Exhaust-
Cat is good but the muffler looks like it has been hanging out with the Titanic for awhile. Also the Check Engine is reading 1-4-4-4-1, meaning the emissions are working properly.

Brakes-
Fronts have been replaced recently but the rear are probably original and are setting off the brake lining light. Rear brakes need to be replaced.

Interior-
Just beautiful, the dash/carpet look new. Rip in rear seat and driver bolster. Seats are heated. Instrument panel has clear glass and fully functional. Perfect glove box. Also the Heater Core was just replaced. A/C is R12 and still works.

Standard Stuff-
Air filter/plugs needs to be replaced. Brake fluid change etc.

Wheels-
14'' BBS with caps and Bridgestone's up front and Dunlop's in the rear. As far a wear, I am horrible at this, but probably 15,000 miles left in them. I do not have a number gauge. Also they are 195x65xr14H. The spare is the original steel wheel with a Goodyear Tire in same size.

Well that's about everything I can think of feel free to give me a call,

Robert
206-683-2084
$3800/obo
I have the title.
_________________
1987 325i Convertible
51,000+ miles
Sold to a friend car is now destroyed, such a same.
idanity



Joined: 21 May 2005
Posts: 3097
Location: N.W.U.S.A.
Posted: Mon Mar 22, 2010 4:43 am

Post subject:

---

this car is worth more than 5k.
this car is "concours" grade.

i have personally been under this car, and there isnt even any pine needles or old leaves ANYWHERE.

it would be difficult to impossible to find another like it (let alone for sale)
which is my next question when i see you...why you selling / ? you moving ?

glws
_________________
..........