robert1700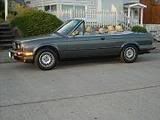 Joined: 04 Jul 2004
Posts: 1398
Location: Seattle
Posted: Sun Nov 09, 2008 1:28 pm

Post subject: 1986 Euro 325is/M-Tech 1

---

Vin #UBAAB5402G9672117
Mileage = 200,000, When converted from Kilometers
Exterior = Black
Interior = Black Houndstooth Cloth, Perfect Condition, I have seat covers on them so they do not rip. I have two sets of these seats

Story
This car was originally sold in Munich and shipped over to Canada. There the car spent several years before being shipped to the U.S. My cousin purchased the vehicle several years ago Aurora Classic Coaches. I purchased the cars two years ago in February.

BMW Standard Features
-Power Windows
-5 Speed Getrag Transmission
-Replaced original B20M20 engine with the B25M20
-Heated Rear Window

Sport Package
-Front and Rear Spoiler
-Sport Seats
-Sport Steering Wheel
-Business Computer
-Power Sunroof
-14'' BBS Wheels with Faulken Tires
-Euro M-Tech Springs- 1/2'' less than "is" and about 1/2'' higher than M3
-LSD Differential
-Girling Brake Booster with no ABS
-BMW Glove Box Flash Light

Winter Package
-Heated Locks
-Heated Mirrors
-Heated Window Washer
-Ski Bag
-Mud Flaps
-Rear Head Rest
-Pre-Wired Heated Seats
-E28 Climate Control System
-Trunk Cover Panel

Upgrades
-Z3 1.9 Short Shifter
-M30 Engine Mounts
-M3 Instrument Panel
-1991 325i Bosch Engine Management System
-BMW Car Umbrella
-Full Tool Kit, No Rust
-BMW M3 Wiring Covers

Maintenance
-Timing Belt, Front Engine Seals, Electrical System, Cooling System, Throttle replaced on 4-19-07.
-Power Steering System, including filter, replaced 3-20-07.
-Transmission and Driveline, new one from Peerless in California, replaced 9-08.
-Fuel System, pumps and lines, replaced 3-07 and again 8-08.
-Clutch 7-08
-Front brakes, rotors, sensor and bleed 8-08 (I have the rear set but have not put them on)
-New Instrument Panel and SI Board 7-08
-BMW Dealer Battery 4-06
-Valve adjustment and seals 9-08

Documentation
-Have all maintenance item records
-Original Dealer Brochure
-Clear Washington State Title and Registration and Emissions-After 2010 this vehicle will be emission exempt.
-Full E30 Owners Manual

Please call Robert at (206) 683-2084 if interested.
$4300/obo
_________________
1987 325i Convertible
51,000+ miles
Sold to a friend car is now destroyed, such a same.