[Note: Carl has sold his car, I'm keeping this page up as an example of a very modified M3. -- Dale]
From: Carl Buckland [buckland.xmission.com]

---
Please make sure, that you PRIVATE E MAIL Carl Buckland for more information.
---
Carl's Race car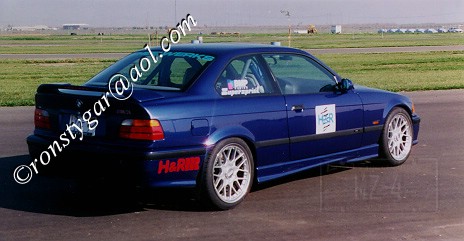 ---
UPDATE ON CUSTOM M3(SOLD!)
---
Dear Bimmer friends,
The car is still for sale. Seems everybody who is interested is afraid of its "pedigre," because it has been autocrossed and put on the track. Worry not. It has always been meticulously maintained, and nearly all of the 60k miles are to-and-from Calif and SLC, getting to and from the west coast tracks (I am an instructor for the BMW Club, and go to high performance driving schools and open track events often.)
Nevertheless, the price reflects miles and background. The "base," (see article) is $27,000, which is on the low end of what 95's are going for. Add to that all of the extras (at 1/2 + or - retail), labor thrown in, and it comes to about $34 to $38k, negociable. For what it is, that is a fair deal. I want to sell it so that I can take possession of the soon-to-be-mine LTW that awaits me.
Moreover, it has a nearly NEW engine. It is a LTW engine (hand picked by BMW Motorsport as the best of the best) that TC Kline took out of his new LTW when they changed the rules and allowed him to go to a 3.2 Euro engine. TC (snip) (did a few things to the engine. info avail to serious buyers)
I have done a ton of mods to the intake and exhaust, but nothing further inside. The car pumps close to 300 dynoed HP. The suspension is totally adjustable, to go from street to full race.
There is no other normally aspirated M3 in the country that is faster, yet is still "streetable." I doubt that you will have a chance to buy anything like this again, as no one builds cars like this, that will do all three things (track, autocross, street). Truly one of a kind.
The car is perfectly streetable, yet can be autocrossed or put on the track. It has a lightened flywheel, new clutch, and a 3.38 rear end. 0 to 60 times are in the low 5's. It will corner at 1.2 g's continuous (with R1's).
TRAILER for Tire/tools/cooler/luggage/EZup included! It tows easily at 100, but with CA speed limits set at 55 for cars with trailers, I have to settle for 75. Trailer has brand new 15" Goodyear tires, has a spare, and is fully set up with legal lights, etc. At 75, the car gets 24mpg without the trailer, 21 with the trailer.
---
CUSTOM M3(no longer for sale)
---
I have decided to buy a LTW, a trailer and a truck, and am selling my M3.
This car is one of the original "BMW-Performance_at_mission.com" prototype cars, and is fully sorted. If you or someone you know wants all the performance without all the development headaches, here it is. It is a daily driver, a CSP autocross car, and a real monster on the track. I wish I could just keep it, but one M3 in the family is enough for us.
The car will be featured in up coming issues of Grassroots Motorsports and European Car. It has a lot of history in BMW tuner circles, and has always been one of the first to try out the new ideas, and has been the prototype for many.
It has a nearly new TC Kline built engine, with some pretty trick BMW Motorsport componentry that I will talk to serious buyers about in private posts. With its current set up, which I will describe below, it has in the neighborhood of 300 hp.
The car has seen many track and autocross miles, and has been meticulously maintained. It has a very trick trailer hitch, with which I have towed my tire trailer all over the country with absolutely no mechanical problems. Although the car looks perfect, I suspect that its pedigree will scare away the Q-tip crowd. So I will assume that track and performance junkies will be the more interested buyers, and will want the trailer too. Ok. It's included. Trailer even has new tires.

Although it is probably misclassed in SCCA Solo II, the car is very competitive on open courses. My friend Bob Tunnell, who has won many National Championships in Solo II, including A stock last year (his wife Patty was also National Champ),had been campaigning his own stock M3 in stock form. Wanting to try out the more aggresive preparation allowed in Street Prepared, he co drove with me last spring in the San Bernardino Pro Solo. He WON C street prepared, showing that even when running against the 1800 lb Hondas, Miatas and RX 7's (I told you it was misclassed!), the 3150 lb M3 is an awesome handling machine. Last year, I was fortunate enough to win the National Championship in Solo Trials, where 95 mph is the top permissable target speed, rather than the 65 ceiling imposed on regular Solo II.
It is on the track that the car really comes into its own. Although it has never been raced in open, wheel to wheel competition, it has been used extensively in BMW school and various open track events. It has never been wrecked, (it has an ouch! on the rear left quarter panel that I will have repaired soon. more on that below) and anything that tends to have accelerated wear from track use (brakes, suspension, etc) has been replaced periodically. For point of reference, I turn very consistent 1:47's at Laguna Seca, running on 255 R1's, in normal open track group. In an actual race setting, I suspect that a really experienced track driver could improve on that time considerably. I would estimate that a stock M3, driven under comparable conditions, would yeild lap times of about 1:54, but that is only a guess.
Street tires: I will sell it with the OE wheels, with Michelin MXX3's mounted. I will also sell some 17" Antera Opus Ones (three spoke. shows off the big rotors nicely) with it if you like. the Anteras are 17 x 8". They cost $412 new. Will sell as-is for $600 total. The BBS RC race wheels and the BBS RS II 18" street wheels are NOT for sale. However, if you buy the car, I just might throw in some Pirelli winter 210s and a set of used 255 R1's.
I just recently gave it its first nick, having jack knifed the trailer into the left rear quarterpanel while backing up at a gas station. Other than that, it is cosmetically near perfect. I will either fix the dent (new sheetmetal), or arrange to put money towards fender flares, if the new owner so chooses. That was going to be my direction.
I have every receipt and all records. Every 3000 miles, oil has been Lubromolly sythentic from just after break-in. The new motor is now on a synthetic diet as well. All other lubricants are synthetic where applicable as well.
Purchase date: June 94. I am the original owner. Miles: about 60k. A majority of the miles were on the road between Salt Lake City, where we live, and California, where the car likes to live (out its Walter Mitty fantasies). The miles are not too far off normal for a 3 year old car, especially considering that the motor is near new, as are almost all of the other depreciable parts (brakes, suspension, clutch, etc., are replaced periodically ). Still, I will make a price adjustment for what I consider the "extra miles" that are above 15k per year.
Basic equipment: Avus blue, grey leather. sunroof, cruise, cupholder and arm rest.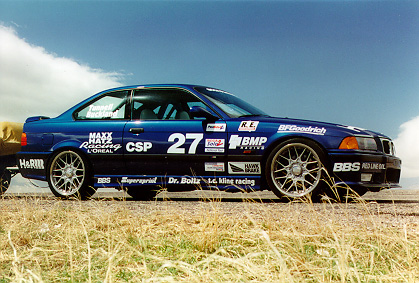 It also has the factory, center lighted Motorsport rear wing.
I will sell the car in either "near" stock form, or full dress, depending on what you want. I have done nearly every modification that is currently being done, and some of them are "irreversible," so those mods obviously must stay. Some of these mods were extremely expensive, but will be priced at about half of retail. those mods that would stay include (all prices are "asking." Most after market items are about 1/2 of retail, sometimes more, sometimes less):

         27,000    Base price  95 with 60k miles
          4,000    the TC Kline motor (8k miles. details on request)
           incl    new clutch
            100    Jim Conforti  custom electronics(he charged me 
                   too little!)
            250    Big bore throttle body
            700    40%, 3:38 differential
            100    Donahue brake ducting
             20    K&N air filter
            150    Performance Friction Z rated street pads 
            350    TC Kline roll bar with removable center section
            100    Front strut brace
            400    Motorsport rear wing
            140    Full Milos Klakos carbon fiber interior trim
             75    Aluminum alloy pedals
            150    Schroth retractable harnesses
            200    BMW factory CD changer
            400    Supersprint stainless steel muffler
            incl   Rear fenders rolled (by Dinan) for 255/40/17  
                   tires               
            150    Trailer hitch
            300    Tire trailer (holds 7 255's, tools, luggage). 
                   new 15" tires
         ------
         34,585   TOTAL asking price  (negociable)

Labor and development costs are not being added to the price. They were very substancial (including a near divorce as I spent our Aniversary night under the car with Boyd Butler, installing the exhaust system, instead of drinking Dom with Julianne!). This is what makes this car an especially good deal to the right person. I would estimate that the total time spent was.......on second thought, I don't even want to know.
EXTRAS I still have most of the original parts, and can reinstall them, but if the buyer wants, the following can also be included: (NONE of these parts are available separately. They either go with the car, or I take them off and put them on my new LTW. I will basically duplicate all the mods that I did on Ice 9) (some prices are 1/2 retail, some closer to retail. Depends on whether I really need to keep the piece or not)

           1000     H&R coilover suspension, with multiple springs, 
                       ranging from "street/sport" to 
                       stiff-like-a-brick.  
            200     Racing Dynamics fully adjustable front and rear 
                       sway bars    
            125     Motorsport "X" brace 
            150     Dinan mega camber plates     
            100     Hubcentric wheel spacers 
            800     Supersprint equal length, stainless steel 
                       headers 
            300     Dr. Gas syncronizing crossover pipes  
            150     Custom air intake system, with Euro air box 
            250     Euro HFM 
            100     with Steve Brown adaptor   
            700     Lightened, alloy  flywheel (although I 
                       still have the original)   
            300     Schroth full race, 5 point harness system 

$4,175 for all of the above, but each can be purchased, *with the car,* seperately.
I would just as soon keep all of the above, as I will just be reinstalling these pieces on my new LTW, but if you want them, I will leave them on the car, and give you a good price break off retail. There are probably some other things that I haven't thought of.
Wheels: It will come with the original 7.5" wheels. I also have 8" Anteras, 8" BBS RC's, and 8.5"x 18" BBS RS II's, which I want to keep, but will negociate if you want them (sold ONLY with the car).
Brakes: I have stock rotors, floating rotors, and slotted/drilled Brembo rotors. Negociable, like the other parts. Also, a vast assortment of pads, also negociable.
Price: obviously, it depends entirely upon what configuration in which you would wish to buy the car. For starters, I figured "Market for a 95 M3 with 60k miles, plus some consideration for the TC Kline motor, and about half of retail for any of the performance mods that you take with the car (some optional, some "required").
Delivery: I live in Salt Lake City, Utah. I would consider delivering it anywhere, either by driving or by transport.
So, there it is. The start of my last chapter with "Ice 9." I hate to see him go, but this could be a great oportunity for the right enthusiast. Again, it will probably past the muster of most Q-tippers, but I would rather not bother with them. If you want to know "did I use Zymol products exclusively," you need not apply. (the car has, as a matter of fact, been Zymoled, and waxed with other products, very regularly). This car is nearly perfect, but it has been used enthusiastically, like I think that an M3 was designed to be used.
Please private E mail me at the following address:
Email: buckland_at_xmission.com

Fax: 801-531-6690
Carl Buckland
Salt Lake City, Utah CSP, # 27 (all graphics have been removed)
---
To see articles at Unofficial BMW written by Carl: